Life raft Inspection
Hercules has been servicing life rafts and inspecting fishing vessels, survival equipment since 1996 (23 years of experience). We've seen a lot in that time, and we know how important a life raft is to you. Just knowing that you have a properly serviced life raft on board can give you confidence while at sea not to mention how proper life raft scheduled services can increase the life of your life raft.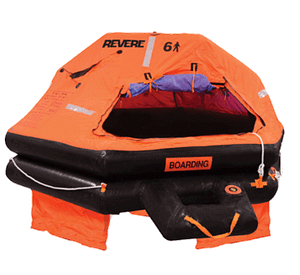 "Seems rather simple that a life raft only needs to do two things– inflate and hold air. But you would be surprised how neglecting your life raft can cause either one or both of these simple things to fail".
Hercules SLR (US) is a USCG service station #327. We have invested heavily in training our service technicians who are certified by both USCG, and Survitec for Life Raft Inspection and survival equipment.
Why do we feel we are the most qualified company when it comes to life raft inspections and survival gear? First extensive training, second our knowledge and experience. Our business is in the heart of New Bedford at the center of one of the largest fishing fleets in the world. We talk to fisherman every day we listen, we learn, and we apply. We don't take short cuts; we treat life raft inspections seriously. A parachute has to open when the cord is pulled– and a life raft has to inflate and hold air. You need to have confidence in the people who inspect and repack your life raft. We perform life raft inspection services adhering to industry and manufacturing guidelines.
Life rafts serviced at Hercules SLR are subjected to a rigorous inspection by fully qualified technicians to ensure it functions properly if needed in an emergency.  Our life raft specialist Richard has been servicing life rafts for over 19 years! Life rafts are serviced in accordance with the applicable service manual and list of requirements. To learn what is involved with a life raft checklist click on the link below.